My wonderful friend, designer behind Cut and Swallow, Danielle Scott-Haughton recently created a capsule collection in collaboration with men's sportswear brand BoxFresh, and Mz Bratt as the face of the campaign. The idea was to take a few items from BoxFresh's denim line, re-work them into feminine pieces.. I had so much fun styling the shoot, and hanging out with everyone, it's amazing to see how a week's worth of hustling (on my unprepared part) came out looking so great!
dress, booties ; Topshop // roller-skate pendant ; Tatty Divine // bracelet ; Asos // ring ; Freedom jewellery
t-shirt, skirt ; Topshop // pop-socks, ring ; Asos // wedges ; Asos // chains ; FCUK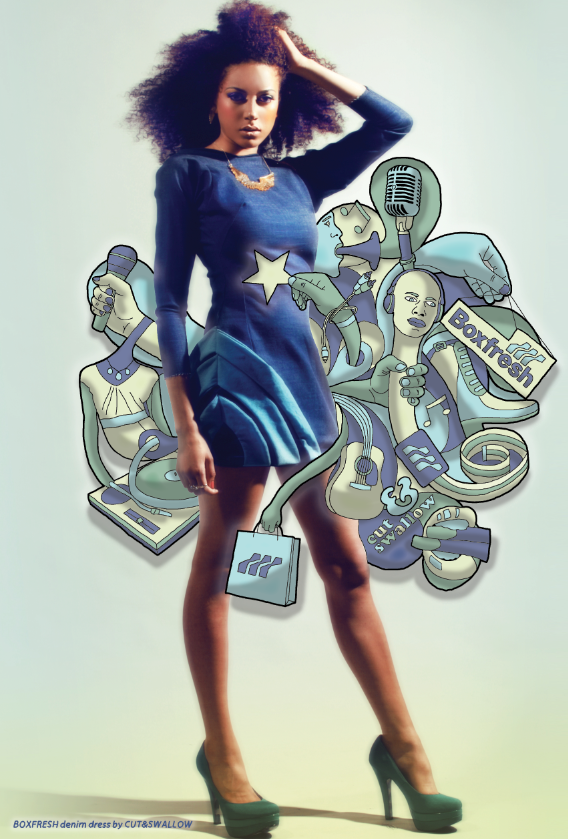 earrings, necklace ; Tatty Divine // rings ; Freedom jewellery // courts ; Miss Selfridge
lollypop pendant, brooch ; Tatty Divine // trainers ; BoxFresh
brooches (used as epaulettes) ; Tatty Divine // top ; Asos // booties ; Topshop // alice band, bracelet ; FCUK

I styled the shoot so I'm in love with these shots on another level! we wanted them to express the different sides to Mz Bratt and I totally think we achieved that!
myself (looking very gross), Seye, Holly, Dani and Mz Bratt at the end of the day
Photographer and Digi: Seye Lizsik
Stylist: Florie Mwanza
Make-Up: Holly Knoyle-Hughes
Slow Hand Clap for GOD for making it possible and for the team!
ps. check out Mz Bratt's latest single..
x